greeting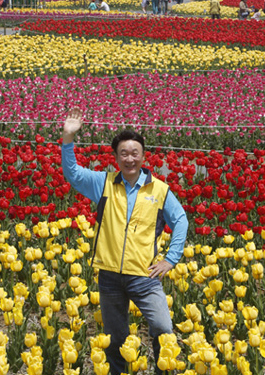 The Taean Flower Festival has entered its eighth, Koreaflowerpark entered its second year this year. Looking back, it is hard to see how it has passed. Eight years is not because it is a long time. I say that because I've been through so much. In the first year, two consecutive typhoons devastated the festival, and in the following year, they suffered death due to unusually high temperatures and droughts, and in 2014, they were hit hard by the Sewol disaster. The investor left and only the poor farmer remained. I had to endure it with my bare hands. I felt as if I were heading to the ground with theyama.

Did you say that it was just a matter of time? Did you say that Ji-sung means Gae-chun? The light festival, which started as a last resort, did more than expected. The entire staff clung to a severe sea breeze during the winter. Both the CEO and the executive director worked the same way. They painted drawings, soldering the sculpture and whistling the frozen hand around the LED bulb. There was no other way to save a bit of labor under difficult financial conditions. The audience was enthusiastic about whether they knew their sincerity. With word of mouth added, two to three thousand visitors a day per week even during the cold winter. The farmers' sloppy ideas and simple workmanship were regarded as rather natural beauty.

Due to this change, the government has changed its plan to open from 12 months to 365 days a year from 2015.

They decided that they could not make ends meet if they opened one or two months a year. Like the Canadian Bugatt Garden, which earns 80 billion won (8 million U.S. dollars) in annual income for one million people, it decided that it would be necessary to secure stable income by opening it overnight and night. And I have learned a new diet directly from the Netherlands. It is expected to extend the period of tulips for more than 10 days so that more visitors can see the beautiful flowers.

The plan is to hold the International Tulip Expo in the future as well as stop this. We can't just sit back in the 10 million-strong era.

They should have a tourism infrastructure that will welcome Chinese tourists as soon as possible. In the past seven years of ordeal, which communities expect to join together, we have paid high tuition fees. It's time to reap the fruit. And the fruit should be not just ours but with our community. Flowers are not the only ones making honey to eat. It is to thrive with bees and butterflies. The ideal of the Taean World Tulip Festival is to develop with the community, not just me.
2019. 2. At Korea Flower Park